【Episode 3】 Recommendation for ideal stay ~Okara~
Town with a enjoyable monthly market
There are temples and shrines everywhere in Kyoto. You may be lost where to see next after famous spots like Kiyomizu temple and Kinkaku temple. No wonder because there's about 800 shrines and, surprisingly, 1700 temples in the city!
Do you know that market is being held every month at some temples?
Famous ones are the markets held at Touji (Koubou) every month on the 21st and Kitanotenmangu (Tenjin) held every month on the 25th. It is known as "Kobou, the gardener and Tenjin, the secondhand clothes" for a long time. The origin of Touji (Kobou)'s market is said to be the festival of Kukai (Kobou-taishi) and has been held every month since 1239. Antiques, watches, secondhand clothes, and accessories are lined up, and crowd of people gather every month.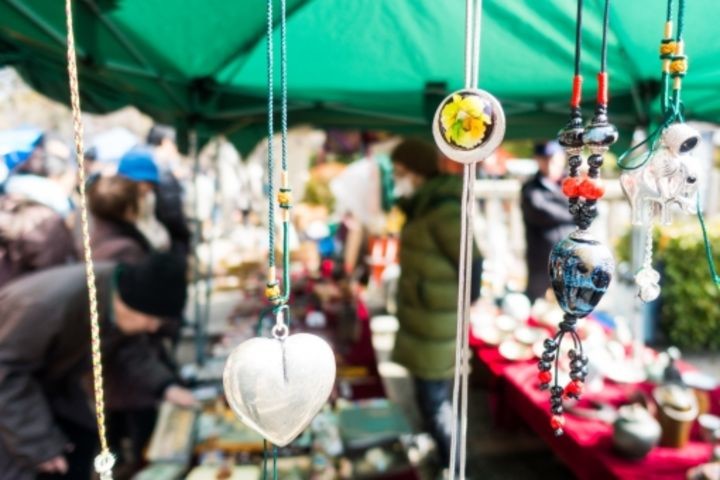 Market is also held every month on the 15th at Chioninn. Shops selling handmade earrings or sangria are open and many women and foreigners visit the market nowadays. Today, I'm introducing "Kyoyado Okara" run by second generation owner, Ms. Ayumi Yasuda. It is located in the middle of Toji, Kitano Tenmangu, and Chioninn where the markets are occasionally held. Ms. Yasuda will tell us how to spend your quality time in Kyoto. Let's take a look, shall we.
Comforting guest house for women travelers.
Ms. Yasuda:The feature of "Kyoyado Okara" is that it is a guest house for everyone to enjoy, even if it's the first time you're staying at this kind of hotel. For example, you may feel a bit nervous staying at the guest house if you're traveling only with female friends. Well, don't be cause, there's room exclusively for women on the 2nd floor.

Individual rooms are on the 1st floor and on the 2nd is dormitory room. It enables you to stay not just with couple of friends, but also with your whole family.

There's a space where mutual communication can evoke in the house. You can interact with other guests and some of them even make friends there.

The small hideaway space you can see in the picture is perfect place to read comic books. Make yourself comfortable on weekends or on rainy days. Old Japanese style kettle bath is one of the fun things you can experience at the house.
Ideal ways to spend your day at the guest house
Nishi-Honganji is only 5 minutes walk from the house. Wake up at around 6:30, and go to the temple. You can get to chant Buddhist sutra with priest and listen to their story afterwards. It is a very unique and interesting experience. Also, you may rent a bicycle and go to famous tourist spots such as Nijo-jo, Sannju-sanngendo, and Kyoto natinal museum. "Hakusan-yu", the Japanese style public bath opened in Showa era, is near the house. You may as well soak yourself in the nice hot bath after a long day.
"Kubotaya" provides ginjo-miso soup noodle. It is located just across the street from the guest house and is popular among visitors at the house. For details, go check the famous gourmet web media called Tabelog. You will find a bakery shop called Rauk right behind the house. The bread called California Uji (180 JPY) has won first prize in California Walnuts Contest. You should give it a try!
Recommended spot in Kyoto
"Isoizumu", the Japanese style pickles shop located at Karasuma-Nanajo about 10 minutes walk from Kyoto station is my recommendation. Here, you can not only enjoy the vegetables of the season at the vegetable bar but also drink fine cocktails which attracts lots of women.
If you want to eat till full, try Japanese style fried skewers' restaurant "Hanamaru". It is only 5 minutes walk from Kyoto station. Every skewers cost only 80 JPY each! If you want to eat till full cheap, this is the best place.
My thoughts of attraction of Kyoto
One of the great things about Kyoto is that you can wander around the town with riding a bicycle. There are small goods shops and temples you can look just around the corner of alley. The impression of the town changes dramatically by season and the temperature difference between summer and winter enables foreigners to enjoy the different aspects of Kyoto whenever they visit the town.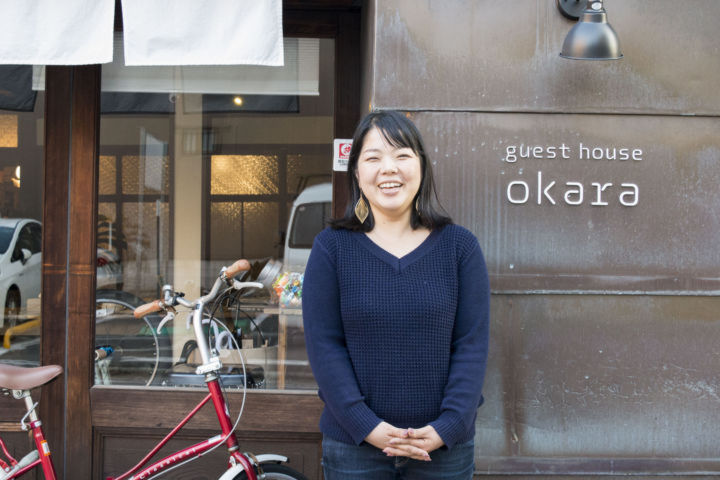 Thank you Ayumi Yasuda, the second generation owner of "Kyo-yado Okara".